I've just moved into a new apartment, after what was a relatively painless process, basically because we had little time to look. It's still a mess, but at least we're here.
Other species need to find housing as much as we do. Think caves, burrows, nests, and even their own shell. BBC has a wonderful
video
showing impressive organization by a hoard of hermit crabs, each looking for a new apartment. This crazy GIF is just a teaser: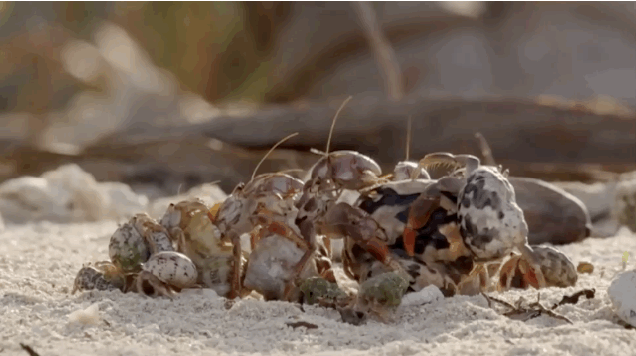 These hermit crabs aren't wrestling (or mating!), they're real estate hunting! The shell is too large for this group, so they must wait for an apartment hunter of the proper size. Does one ever come? Find out here
You may already know that, as a hermit crab grows over the course of his/her life, s/he uses a series of ever-larger shells, each discarded by another shell-producing animal. Hermit crabs' lower legs and body are soft, so they
must protect them
inside a shell, which they salvage from along shore.
But what happens when our crab starts to grow too large for the shell? And how to find a shell the right size when you need it?
When a new shell washes up on the beach, the hermit crabs organize: they suss each other out for size, line up in height order, and wait for a crab that fits the new shell. Once it shows up, they all trade properties, each giving up the old shell and donning the new larger one, as David Attenborough explains. I, for one, am inspired by this wonderful example of communal behavior in which bureaucracy falls aside and everyone gains.
Check out the
video
-- it's from BBC's Life Story (legally hard to embed, but worth the click), to see for yourself!
And for the especially hermit-crab curious out there, this video (from
Kindergarten4TheArts
, more accessible than BBC) shows a slower-motion version of single crab trading places. Enjoy!